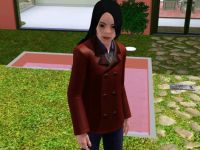 Michael Jackson 4 Ways
"Michael Jackson 4 Ways", by Chris Howlett, is one of a series of video art works which are designed to activate an immersive space from which to critically and creatively consider how reality and simulated environments both construct and reconfigure our ideas about the nature of subjectivity and identity.
The video work explores these new phenomenons through Sims 3, which is a strategic life simulation video game where players construct and control their Sims in various social activities and form relationships in a manner similar to real life. Sims 3 does not have a defined final goal and its gameplay is open-ended. Michael Jackson was a person who cut across international racial and gender divisions with his music and lyrics, but whose personal life created intense contradictions between his private life and his role as a musician.
As the copies of the Michael Jackson Sims play out their animated roles in Paris Hilton's house, the accompanying audio tracks expose the political and moral debates surrounding accusations of paedophilia. "Michael Jackson 4 Ways" questions the slippery position the viewer inhabits, to make informed, truth based decisions over these personal and moral online statements. Where does one locate one's moral and ethical decisions based on the artists aesthetics?