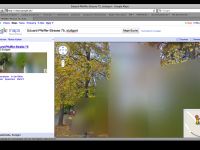 Ghost Town
The Ghost Town project was started the day Google Street View launched in Germany, in late 2010, by Arne Huebner, Daniel Stäbler, Chris Heller and Theo Seeman. Germany blocked Street view for a very long time, and when it was finally allowed, most of the buildings were blurred to protect the inhabitants privacy. Shocked by the look of their home town, Stuttgart – "a town filled with shower cubicles", Seeman says – they decided to start an online project that poses the question about the sense/nonsense of this privacy mania:
"It started the day Google Street View was launched in Germany and is aimed to put focus on blurred real estates in Stuttgart to contribute to the controversially discussed question of privacy in a Google age. We started at Killesberg, where a quite high amount of blurred houses is located and interestingly the bold and the beautiful live. Step by step every blurred house of Street View in Stuttgart should be built as 3D model and put back in a Google Earth KMZ file, while their shapes are not original but geared to their blur layers. "
Ghost Town is a project built at Merz Akademie during Attention Design workshop with Manuel Bürger in 2010.