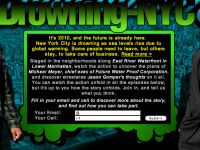 Drowning NYC
Drowning NYC, the new Recombinant Fiction piece by Paolo Cirio.
This is an attempt to weave a fictional story into the daily reality of the residents of Lower East Side Waterfront in Manhattan. They found themselves surrounded by an over-layering of mediated narrative information. Drowning NYC is a cross-media story; an experimental pilot that is told by actors and through narrative devices that are staged over the Internet and in the public spaces of a few chosen New York City neighborhoods. The genre and the art type are theorized by the artist as being "Recombinant Fiction", a political and pervasive form of cross-media fiction.
This project proposes new pedagogical instruments, innovative activist strategies, elaborate media experiments, cutting-edge forms of theatre and cinema, questions about reality perception/construction and, above all, a new form of conceptual art.