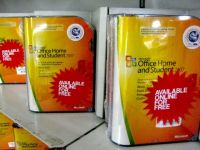 Available online for free
Evan Roth is distribuiting free stickers to anyone interested in taking part in his project "Available online for free". He writes: "Instructions are simple…. email your mailing address to stickers[at]evan-roth.com When the stickers arrive in the mail put them up in a location that you find appropriate, take a picture and email me back the photo to the same email address. All photos will be added to a loop on display in the gallery for the length of the exhibition."
The show, called "One Every Day", will be on view from November 5 through December 19, 2009 at The Elizabeth Foundation for the Arts, New York. The exhibition foregrounds the relationship of printed ephemera to cultural and artistic production, and marks the curatorial debut for Printeresting.org.
http://blog.ni9e.com
http://evan-roth.com
http://www.printeresting.org