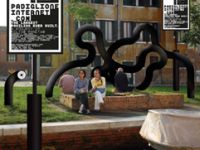 The Internet Pavilion
At the 53rd Venice Biennial, a completely new pavilion will be presented – the Internet Pavilion. With the theme for this year's biennial, "Making Worlds", it is only logical that the Internet is represented, for the first time, by a pavilion of its own. The Internet is a new part of our world that has never been represented in Venice. It is a different territory from the existing pavilions. The Internet is not defined by physical or geographical borders, nationalities, or a specific language. The Net is still new and developed with such speed that its legislation, as well as its impact on our lives, is under constant redefinition. The Internet is transforming our lives and senses; it is transforming the way we behave, communicate, share information and develop ideas. As this is what we often say art does, it is of special interest to present the Internet Pavilion at the Venice Biennial.
The Pavilion is composed by two websites:
- PadiglioneInternet.com, hosts a collaboration by Miltos Manetas and Rafael Rozendaal. It will open on June 03 and similar to the physical buildings of the Biennial, it will close down in November.
- Biennale.net, holds the discussion and the history of the project and at the same time, it is the "entrance" for a number of collateral exhibitions and projects.
http://www.padiglioneinternet.com