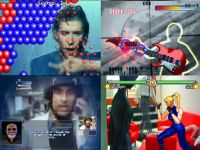 Jodi.org. Composite club
VertexList space presents Composite club, a solo exhibition by the legendary new media collaborative JODI.
JODI, or jodi.org, are unanimously considered pioneers of new media art. It is a collective of two artists: Joan Heemskerk (the Netherlands) and Dirk Paesmans (Belgium). Their background is in photography and video art " and in the mid-1990s they were the first to create Internet based artworks. In more recent works, they modified video games such as Wolfenstein 3D, Quake, Jet Set Willy, and Max Payne 2.
Works on display at VertexList include brand new projects including Composite Club (an installation Involving Playstation camera games triggered by prerecorded video clips), wrongbrowser.us (live online browser limited to the .us domain), and RSS based mailinglist Wordstar. They will also feature JODI classic Wolfenstein modification S.O.D Bcd etc (sod.jodi.org).
Composite club will be presented in conjunction with and/or gallery in Dallas, TX, which will features JODI game hacks and work of Arcangel Constantini. Life video feed will be set up between the galleries during the opening reception.
A reception will take place on Friday, May 4th 2007 from 7pm – 10pm, with the artists in attendance. The exhibition will be on display until Sunday, June 10th, 2007. Live demo by JODI @ the opening reception.
vertexList — 138 Bayard St Brooklyn NY 11222
www.vertexlist.net