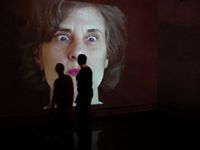 Crossmediale 2
CrossMediale 2 focuses on the concept of transcultural change and translation in a broader sense. As a continuation of the ongoing curatorial Transcultural Projects initially developed by Gosia Koscielak in 2000, Crossmediale 2 continues to investigate how complex identities, a multimedia reality, and the multicultural mosaic of humanity create the Global-Local world and GLOCAL identity through a variety of local and international artistic responses.
Ultimately, the artworks featured change our understanding of transcultural society, and thus change our understanding about human existence.
CROSSMEDIALE 2
An exhibition of American and International art in new media curated by Gosia Koscielak
Gosia Koscielak Studio & Gallery, 1646 N. Bosworth Ave.
Chicago, IL 60622 – T.847.858.1540 – http://www.gosiakoscielak.info/
April 13 – May 12, 2007
Opening reception: Friday, April 13, 6-10 p.m.
Special Event : Translations/Tower of Babelfish online performance by the Second Front, Patrick Lichty and Scott Kildall.
CROSSMEDIALE 2 will also be at Gosia Koscielak Studio & Gallery's Booth # 12 at Bridge Art Fair Chicago April 27-30, 2007. For more details on Bridge Art Fair Chicago:
www.bridgeartfair.com/chicago