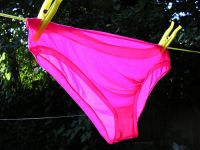 Chromophilia
Chromophilia is an international art project focused on the role that colour plays in fashion. The name Chromophilia is adapted form David Batchelor's book Chromophobia. This book is concerned with the fear of corruption or contamination through colour (chromophobia) and its modern and contemporary manifestations, as well as with resistance to it in art. Colour as an indicator of social mood, environment and culture, has significant commercial implications. Different colour palettes can be attributed to different socio-cultural areas and fashions styles. Colour trends are very recognizable and they fuse indelibly to areas, products and fashions.
The aim of the Chromophilia project is to make people aware of colour forecasting mechanisms while developing a whole new approach to colour in fashion.
Chromophilia blog is a shared space where the chromo-community can post and comment views on colour senses. It consists in collecting a complete documentation on the topic exploring different areas (colour in literature, in visual art, in design, etc.) and different approaches (physical, psychological, economic, social), creating a dialogue with people who are interested in this subject. To add any comment visitors just need to register to the chomo-community and login. The project is developed by an international team including Joanna Bodzek, Valentina Culatti, Giovanna Paternò di Sessa.