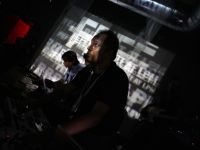 LPM 2006
After the first edition of LPM (Live Performance Meeting) in October 2004, Rome is going to guest the event again on the 24th and 25th of November 2006. Organized and produced by Flyer Communication LAB in collaboration with FLxER,net, Radio DD, Deliriouniversale and 369gradi, at Linux Club.
LPM is a unique occasion to see different applications of VIDEO LIVE through performances of more than 60 artists coming from all over the world: France, Italy, Croazia, Belgium, Spain, Thailandia, Danmark, England, Uruguay, link by the great passion for video, performances and, first of all, LIVE acts.
This edition, the 3rd, is not just a meeting anymore: it aims to be a festival, with more contents, bigger spaces and longer terms. Two days of workshops, meetings and performances will create an important occasion of dialogue between experts. It will be a place to meet, interact and mix new and different artistic expressions an occasion to experiment and to combine different languages: music, video, theatre, graphic.
LPM 2006 – LIVE PERFORMERS MEETING – TERZA EDIZIONE
Live video performers festival + meeting
24-25 NOVEMBRE – LINUX CLUB ROMA, Via Giuseppe Libetta 15c
http://lpm.flyer.it