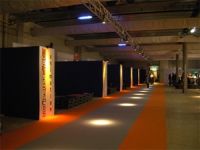 DigiFestival a Firenze
Si è conclusa la seconda edizione del DigiFestival.net / Festival multimediale di arte in streaming video / Edizione 2006. Rassegna multimediale di cortometraggi e video riconducibili a differenti discipline che si svolge in rete. L'Associazione Culturale Art in Vision, organizzatrice della manifestazione, come nella precedente edizione, rinnova il suo appuntamento nel mondo reale con un grande evento, ricco di video, musica e fotografia al Mercafir di Firenze. Il padiglione di Mercafir, con i suoi 2700 metri quadrati, si trasforma per una notte in un luogo di incontro con la dimensione digitale della creatività. Una grande mostra-installazione di immagini e suoni, con proiezione continua delle opere vincitrici, in punti audio e video, dedicati ognuno a ciascuna sezione tematica del festival (Cinema, Video Art, Musica, Fotografia, Animazione e Sport video).
I vincitori del DigiFestival.net 2006 sono: sezione Musica, CC Sound Factory (So Shiok) sezione Cinema, Simon Dekker (The Execution of Margot Rumebe) sezione Video Art, ex-aequo Helga Maestrini (Liquida.mente) e Schejla Massellucci (Boum) sezione Animazione, Serdar Camlica (Awaken, The Mind Travel) sezione Fotografia, Benjamin Pezzillo (SleepWalking in VGA) sezione Sport, Abraham Michael (Wuji). Il video più votato dal pubblico di internet è stato Volume on Speed di Pamela Vitale (sezione Video Art).
28 ottobre 2006
Dalle 21 alle 22: ingresso 5 euro
Dalle 22: ingresso + drink 12 euro / ingresso ridotto + drink 10 euro
Possibilitá di prenotazione biglietto ridotto E-ticket via sms: +39 334 62 52 500 – Possibilitá di prenotazione biglietto ridotto Web Ticket al link:
www.digifestival.net