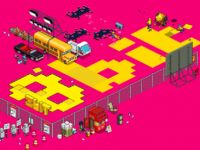 8 bit at MOMA
The Museum of Modern Art (New York) presents the world premiere of 8 BIT (2006), a feature-length documentary exploring the history of artists and video games. This melange of "rockumentary," art exposé examines early hacker culture and interviews contemporary musicians, artists, and programmers who repurpose game hardware, modify existing games, and create original games.
Filmed in New York City, Los Angeles, Paris, and Tokyo, 8 BIT offers a global perspective on the artistic approaches of those who grew up playing early video games on the Atari and Commodore 64 consoles.
With commentary by media critic and author Ed Halter of The Village Voice, and new media curator and writer Christiane Paul of the Whitney Museum, as well as interviews with more than 20 artists and critics, these recent artistic strategies are put in the historical context of modernist and postmodernist discourse and examined as potential examples of a transition into fresh, uncharted territory.
8 BIT argues that in the 21st century, GameBoy rock, machinima, and game theory belong together and share a common root: the digital heritage of Generation X.
According to organizer Barbara London, 8 BIT ably chronicles the modernist and post-modernist tendencies in the relatively recent history of video game-based art, but also suggests that the bitbending antics of the post-video game generation hint at a new current in the uncharted waters of 21st century art history.
www.moma.org
www.8bitmovie.com
8 BIT. (2006). USA. Original concept and direction by Marcin Ramocki. Produced and co-directed by Justin Strawhand.
With artists Cory Arcangel, BIT SHIFTER, Bodenstandig 2000, Bubblyfish, Covox, Mary Flanagan, Alex Galloway, Gameboyzz Orchestra, Glomag, HUAROTRON, JODI, Paul Johnson, John Klima, Johan Kotlinski, Nullsleep, Joe McKay, Tom Moody, Akiko Sakaizumi, Eddo Stern, TEAMTENDO, Treewave, Chiaki Watanabe, and Carlo Zanni curator Isabelle Arvers media critic Ed Halter and new media curator/writer Christiane Paul.
The premiere of 8 BIT is organized by Barbara London, Associate Curator, Department of Film and Media, The Museum of Modern Art