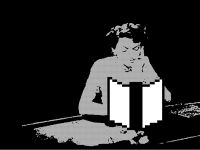 Amazon Noir
After Google Will Eat Itself, ubermorgen.com, Alessandro Ludovico and Paolo Cirio propose a subversive online work that questions the inconsistencies in the enforcement of copyright law. Using the aesthetics of Film Noir, a corresponding plot, and protagonist, the project allows users to 'legally' steal and redistribute copyright books from amazon.com.
A programmed software-bot is going to outwit Amazon's "search-inside-the-book"-system and will be capable of using the search results to compile entire books. The projectpoints out the hypocrisy of the digital copyright lobby. Past work of the group has infiltrated mainstream media outlets, bringing questions about civil rights, patent, copyright and democracy in the digital age to wide audiences. The proposed project will enter into direct conversation with media, legal and business entities and consumer behaviours.
The piece, supported by Edith Russ Site for Media Art, is a performative media-installation and thus continues the historical tradition of happenings and performance art. Provoking reactions from conventional media and business is an integral part of the project.
www.amazon-noir.com
www.edith-russ-haus.de/english/stipendien2006.html
www.ubermorgen.com