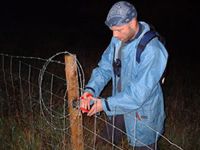 Heath Bunting & UBERMORGEN.COM
On June 14, 2006 OVERGADEN – Institute of Contemporary Art in collaboration with Artnode will open two solo exhibitions by Heath Bunting and UBERMORGEN.COM as well as a special exhibition that joins
the work of the two artists.
Two pioneers, rebels and stars of net art. This is the first time they exhibit together. Almost without computers! Cutting, Climbing, Crossing will present a number of Heath Bunting's recent works which deal with issues of borders, identity and physical space. Central to the exhibition will be the world premiere of Bunting's ongoing project The Status Project, a mapping of the multi-layered logic of the mobility and legal routes of the social system. The work will be presented as wall-mounted diagrams, an interactive database and a 4,200-page manual!
[F]originals: Authenticity as Consensual Hallucination is the third and closing part of an international joint venture between OVERGADEN Ò Institute of Contemporary Art /Artnode, [plug.in] and Hartware MedienKunstVerein. The exhibition will be a classical painting show, consisting of 6 large square canvasses with digital prints of the official seals from UBERMORGEN.COM's projects from the last five years.
dayplandrugblog. two ways to live your life as a (former) net artist features another world premiere or actually many works that deal with diaries. Heath Bunting will show 365 of his daily what-to-do maps (one for each day of 2005) drawn by hand on paper, while UBERMORGEN.COM will show prints of one month of the online "drug blog" together with the video PsychOS.
In connection with the project a number of publications will be available. Heath Bunting will print his Day Plan Guide along with the Project Status Manual and for the UBERMORGEN.COM show a catalogue edited by Alessandro Ludovico (neural.it) will be published in late August.
The project is the result of an ongoing collaboration between OVERGADEN – Institute of Contemporary Art and Artnode with the ambition to bring international computer-based contemporary art to Denmark and to get computer-based contemporary art out of the new media ghetto.
OVERGADEN
Institute of Contemporary Art
Overgaden Neden Vandet 17
DK-1414 Copenhagen K
Phone +45 32 57 72 73
Mail info@overgaden.org
http://www.overgaden.org