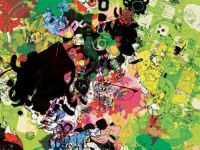 [enter] nature
Working with an exquisitely "new" range of possibilities and techniques, artists contributed to a radical reshaping of the concept of Nature from the early nineties. Using both the dynamic and formal qualities that New Media increasingly offered as unprecedented "construction material", today's artists relate to physical realities in a mix of inspired quotation and pure invention, often giving birth to new worlds, with physical rules of their own.
The show [enter] nature will try to offer a sample of different attitudes towards this topic, highlighting conceptual similarities and contrasts.
Artists relating to the generic cathegories of Nature, Landscape, Environment, can choose between evoking and quoting what we have (or what we had, as nature as-it-used-to-be becomes a more and more endangered subject), or actually create their own functional environments. The array of tools available for this construction game is impressive: the internet, for instance, can be easily read as a roots-system replica, as a rhizome, as a relatively autonomous growing being… playfield of endless visual as well as socio-political experimentation. At the same time, data, pictures, sounds and personal records stored in our HD's have become a "natural" extension of our human body (giving access to more and more sensorial stimula) and mind (with the possibility of interlocking and linking data trough machine-induced paths and strategies).
Long time ago, we were able to transform nature's materials and energy into tools, extensions of our bodies and minds that quickly started to condition our needs and behaviours, becoming part of ourselves and ultimately reshaping our whole environment, with the dramatic consequences we all know. Nature appears nowadays as an expanded, human-centric concept: not only the delicate, endangered, world we (and other species that we hopelessly neglect and/or exploit) live in but more and more the very projection of our own take on it.
[enter] nature
Martin Bricelj / Mauro Ceolin / James Paterson / Pirand»lo / Qubogas / Urkuma
curated by Marco Antonini
GALERÃA GALOU (www.galeriagalou.com)
from: June 2 to: June 25, 2006
OPENING RECEPTION: Friday, June 2, 2006. From 6 p.m. to 9 p.m.
Thanks to Tekserve and bitforms gallery
www.elcuervohomepage.com/events.html