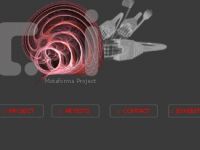 The Collective Intelligence project
The Mutaforma group, formed by Daniele Tito and Evilia Di Lonardo , suggested to the world wide web's artists to join the Collective Intelligence project. This project previews the file-sharing of audio and video available on the net, the rework of this ones and the successive file-sharing of the new videos realized according to the copyleft logic.
The project was divided in two part: research and new elaboration. Nine artists looked for ten audio files and ten video files on the net; all this files was a warehouse. It was used by project?s artists to create a new video concerning the theme – Man and Machine -. Everyone was not able to use more than two video or audio files he found. The project's theme is related to the influence of machines on daily life. The technology influences also our bodies and our thoughts…
The ispiration's source is the book – Collective Intelligence – by Pierre Levy, the french cyber-philosopher.
The final 9 videos are a DVD and they are also published on the net under a Creative Commons licence.
In this way everyone can manipulate them to give the possibility that the transformation's cycle is continuous… The new artist is the hacker of the elements available on the net, in the sense that he is not limited to the passive use but he recovers, re-elaborates, he violates rules and proposes new possibility, sharing them freely…
Mutaforma is actively contacting partners, television network, institutions, museum and curators interested in Collective Intelligence project's theme so as to be included in several manifestations.
We ask anyone who is interested in Collective Intelligence project or anyone who has ideas, useful contacts and suggestions, to contact us at info@mutaforma.com. We will be happy to read your proposals for promoting the project and its artists.
Collective Intelligence project past exhibitions:
- Wolna Pracownia PGR_ART / Kolonia Artystów – 19 to 26 November 2005, Gdansk – Poland
- MARS PAVILION – 51° Biennale Internazionale Venezia – 8 to 11 june 2005, Venice – Italy.