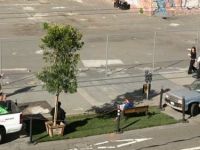 Park(ing)
PARK(ing) is an investigation into reprogramming a typical unit of private vehicular space by leasing a metered parking spot for public recreational activity. Rebar group identified a site in an area of downtown San Francisco that is underserved by public outdoor space and is in an ideal, sunny location between the hours of noon and 2 p.m. There they installed a small, temporary public park that provided nature, seating, and shade.
[ITALIAN BELOW]
Remixing the landscape: ecco ciò che si propone il collettivo creativo di S.Francisco Rebar group. Appropriarsi di elementi comuni del paesaggio e modificarli, mixarli insieme per ottenere un risultato che alteri la usuale percezione e fruizione di alcuni topos cittadini. Esempio principe di questa volontà è il progetto Park(ing) che, come illustra ironicamente già il titolo, è riuscito a trasformare un parcheggio a tempo in un parco a tempo.
Il 16 Novembre 2005 il gruppo Rebar, dopo aver pagato due ore di sosta in un parcheggio di S. Francisco, ha trasformato il posto macchina in un piccolo giardino pubblico, srotolandovi sopra un tappeto erboso e aggiungendovi anche un albero e una panchina.
L'insolita installazione è durata da mezzogiorno alle 2 del pomeriggio, esattamente la durata dell'importo pagato per il parcheggio e non ha visto arrivare interferenze dall'autorità pubblica, nè ha creato disordini nella gente. Anzi. Il pubblico ha cominciato ad usufruire dell'insolito spazio sedendosi sulla panchina, godendosi l'ombra dell'albero, togliendosi le scarpe e leggendo un libro. Insomma riappropriandosi di uno spazio e di un tempo che la cementificazione e lo stress sembrano sottrarre sempre di più all'uomo.
Non a caso il gruppo Rebar ha scelto per questa azione una zona di S.Francisco dominata dai posti auto (più del 70% dello spazio urbano è dedicato al parcheggio) e con una grande concentrazione di uffici.
Terminata la durata del parchimetro il manto erboso è stato riarrotolato e il giardino smantellato e trasportato in un altro luogo precedentemente scelto in cui poter continuare a vivere e a testimoniare la necessitá di questo genere di spazi per la vita dell'uomo.
www.rebargroup.org/projects/parking/
(lucia mariani)