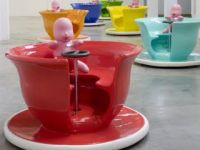 Baby love
Baby love is a mobile network installation created and conducted by the artist Shu Lea Chang. It is the second step of The Locker Baby project that consist of three installation plans: baby play, baby love and baby work. The first installment was commissioned and exhibited at the NTT(ICC- InterCommunication Center ), in Tokyo in 2001. The Locker Baby project recalls Ryu Murakami's noted novel Coin locker babies.
The updated version of locker baby proposes a fictional scenario set in year 2030: the DollyPolly Transagency clones locker babies with genes extracted from deep sea pearls harvested off Okinawa Island. The biobot locker babies are the clones of our scifi fantasia reality , entrusted to receive, store, transmit and negotiate human memory and emotion.
Baby love situates human and his baby clones in a perpetual spin of fairground teacup ride. It is a wireless, networked installation that consist of six, large size (160 diameter) teacups and six clone babies (70 cm tall). Each baby is a sound processing machine with built in mini-pc and speakers. Through web interface or site USB memory stick connector, the public upload love songs (mp3 files) to the centralized and distributed servers. Upon receiving the mp3 uploaded data, the baby learns the long songs by looping random segments of any given song. The spinning teacup is designed in two modes: auto and manual. The public is able to stop the spinning teacup and get on the seating inside it. The spinning wheel scratches the sound files inside baby machine, so the baby love songs are remixed, reshuffled with human interaction. The teacupÌs bottom plate is inflated with a layer of silicon bumper where a set of touch sensor is attached. Upon the crash when two teacups bump into each other, the bumper sensor data is sent via wi-fi and triggers data swap of the love songs amid processing. The altered love songs with its segments swapped are transmitted live on the web with date and time of the crash recorded.
http://richair.waag.org/babylove
[ITALIAN BELOW]
Fino all'8 gennaio, presso il Palais de Tokyo di Parigi è possibile interagire con Baby love dell'artista Shu Lea Cheang. Si tratta della seconda fase di un progetto più ampio, The Locker Baby project, iniziato con l'installazione Baby play realizzata presso l'NTT (ICC-InterCommunication center) di Tokyo nel 2001 e che prevede una fase successiva intitolata Baby work.
L'intero progetto prende spunto dalle atmosfere presenti nel racconto Coin locker babies di Ryu Murakami per creare uno scenario ambientato in un 2030, in cui una fantomatica agenzia transegenetica clona bambini utilizzando geni estratti dalle perle dell'isola di Okinawa. Questi biobot locker babies rappresentano una generazione di cloni capaci di ricevere, immagazzinare, scambiare memoria umana ed emozioni sotto forma di dati.
L'istallazione Baby love prevede una serie di enormi (diametro 1,6 m) tazze da tè colorate, simili a quelle delle giostre, nelle quali sono posti neonati in gomma siliconica alti 70 cm che contengono un mini-pc. Ogni neonato è collegato wireless con due server, uno locale nel quale i visitatori possono caricare le proprie canzoni d'amore preferite attraverso una chiave usb, e uno in rete per aggiungere mp3 dal web. L'insieme di questi dati costituisce la MEmoria(memory/emotion) del neonato.
I brani, prima di essere riproposti al pubblico presente nel museo grazie agli altoparlanti camuffati da bottoni del pannolino, sono modificati dal mini-pc contenuto in ogni neonato secondo variabili fornite dal movimento di ogni tazza, che pu⁄ sia ruotare su se stessa che muoversi nello spazio, sia in automatico che guidata dai visitatori. Il volante che regola la rotazione della tazza funziona, insomma, come il piatto di un dj con il quale ognuno può "scratchare" i vari mp3. Inoltre eventuali scontri tra le tazze provocano uno scambio di dati che vengono mixati e riproposti sul web come una nuova traccia identificata dall'ora esatta dellÌincidente.
(lucia mariani)