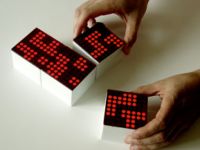 TileToy
TileToy is a modular, electronic game prototype for tangible LED game tiles. TileToy brings the flexibility inherent in digital software to a physical tile that people can touch and interact with. By arranging the electronic tiles, players can engage themselves in various kinds of game play, ranging from fast-paced arcade style games to puzzle an learning games.
[ITALIAN BELOW]
TileToy è un prototipo di gioco elettronico fatto di mattoncini a LED. Il progetto si propone di portare la flessibilità del software nella materialità degli oggetti tangibili, che le persone possano toccare e manipolare. Spostando le "mattonelle" elettroniche i giocatori possono affrontare diverse tipologie di gioco, dallo stile arcade, ai puzzle, fino all'educational.
I mattoncini sono delle scatole di plastica e il loro aspetto unisce il fascino retrò dei LED con il più moderno design minimalista. I singoli moduli sono in grado di comunicare tra loro e l'interazione con l'utilizzatore è pensata per essere totalmente intuitiva.
Tiletoy, sviluppato da Tuomo Tammenpää e Daniel Blackburn è un progetto open source: sia l'hardware che il software verranno rilasciati sotto una licenza aperta. Questo permetterà di sviluppare giochi e applicazioni in modo comunitario.