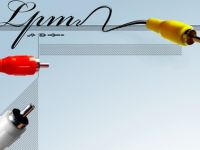 Live Performers Meeting 2005
Live Performers Meeting 2005 is a unique opportunity of seeing different applications of the video live performance executed by more than 60 international artists from France, Thailand, Croazia, Belgium, Spain, Denmark, Uruguay, United Kingdom and Italy, unified by one and only big interest in video-art, performances and above all live-acts. One year after the first edition of the LPM Live Performance Meeting, a second edition will take place in Rome (Italy), the 9th and 10th of december 2005.
[ITALIAN BELOW]
Si svolge a Roma, stasera e domani, il Live Performers Meeting 2005, un'occasione unica dove vedere le diverse applicazioni delle Video Live Performances di oltre 60 artisti dalla Francia, Italia, Croazia, Belgio, Spagna, Thailandia, Danimarca, Inghilterra ed Uruguay, all'insegna di un'unica grande passione per il video, le performance e soprattutto il "live".  Dopo la prima edizione dell'LPM Live Performance Meeting nell'ottobre del 2004, sará di nuovo Roma ad ospitare la seconda edizione dell'evento, il 9 e 10 Dicembre 2005. Organizzato e prodotto da Flyer Communication LAB negli spazi del Linux Club.
Questa seconda edizione è molto di più di un incontro che si rinnova, il meeting veste infatti gli abiti di un festival, ampliandosi in termini di spazio, tempo e contenuti. Un'importante occasione di dialogo e confronto tra esperti del settore, un "luogo" di interazione e fusione tra nuove e differenti forme di espressione artistica, tecniche e tecnologie, un'occasione per "sentire" come i diversi linguaggi della musica, del video, del teatro e della grafica, possano essere variamente combinati.
Il programma prevede una fitta rete di incontri distribuiti nell'arco di 2 giornate, in un crescendo di appuntamenti: concerti, performance teatrali, fino al dj/vjset, momento culmine della serata.
L'Area "off" sarà lo spazio dedicato al meeting, dove dalle 11 alle 17, vj e video artisti e per cosœ dire "addetti ai lavori" si confronteranno su tecniche, tematiche attraverso un programma di incontri, workshop e showcase con la partecipazione di MATROX, EDIROL, PIONEER e la presentazione di FLxER 4.
La flessibilità del programma e l'apertura verso nuove adesioni e contributi À volutamente in linea col concetto stesso di meeting: la libertà di partecipare all'incontro, va di pari passo alla possibilità di esibirsi nel corso della serata. LPM è uno spazio aperto alla libertà d'espressione, alla ricerca e alla sperimentazione, e l'improvvisazione ne è una caratteristica intrinseca.