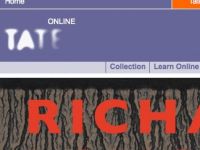 La Tate on-line
Tate Online Events produces a regular programme of talks, symposia, sound & performances. Hosting a range of live webcasts, forums and archived media, in conjunction with Tate Modern and Tate Britain. The next event will take place (in London and on the web) on 10th December. Spheres of Action: Art and Politics is a conference that brings together three of GermanyÌs leading thinkers on philosophy, art and the media (Peter Weibel, Peter Sloterdijk e Boris Groys) to debate the changing relationship between art and politics.
[ITALIAN BELOW]
AllÌinterno del sito della londinese Tate, nel settore Online events, è possibile fruire una serie di conferenze, dibattiti e performance in diretta, tramite una semplice connessione di rete. Il sito ha già ospitato e stimolato alcuni importanti snodi di riflessione rivolti al percorso del pensiero artistico allÌinterno del web.
Nell'archivio è ad esempio disponibile una piattaforma di dibattito della durata di 5 settimane, tra i cui partecipanti figurano importanti esperti come Christiane Paul, è possibile scaricare anche una conferenza dedicata alle nuove inclinazioni curatoriali, nate come risposta a sistemi inconsueti come quello della Net Art, alla quale hanno aderito Olga Goriunova e Alexei Shulgin.
Il 10 dicembre 2005 la Tate Britain organizza in sede, e diffonde con live webcast, una conferenza di oltre 7 ore dal titolo Spheres of Action: Art and Politics. Fra gli esperti che tratteranno l'argomento compare il pioniere dei nuovi media Peter Weibel, con un intervento sulla Rivoluzione Politica della Neoavanguardia. Il direttore delllo ZKM Center for Art and Media di Karlsruhe, artista e teorico, illustrerá i legami tra la politica e i rivoluzionari movimenti artistici che dal dopoguerra hanno creato il territorio per uno sviluppo espressivo contemporaneo, ormai intrinsecamente legato ai meccanismi della comunicazione.
http://www.tate.org.uk/onlineevents
(alice spadacini)