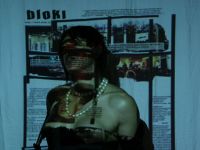 Biodoll's mouse
Biodoll's mouse is a project by Franca Formenti. It's an open space, created so that people may contact each other directly. Each time a new interviewee will answer your questions: the fact that the questions and comments are published immediately means that there are no filters or censors. No racist messages or sexist messages are allowed, or messages that instigate violence.
The Principle:
Franca Formenti (f) asks Derrick de Kerckhove (d) 3 questions. DdeK answers and asks the Bio Doll a question afterwards. All this can be read and listened to in the introductory graphics of the bloki.
1st stage
The users will have the possibility, for a pre-established period of time, to ask the interviewee (DdeK) questions by publishing them on the bloki. To ask a question all you need to do is create a login in the registration page: you will need to type in a username and an email address where you will receive an email confirmation which will contain your password so that you may write on the bloki. Every user may only ask one question to the interviewee. After the first question the password will be void but will be reactivated when the next interview takes place.
2nd stage
The interviewee, thanks to a password, will be the only person who can answer the questions, and in the meantime the bloki will not accept other questions. When the interviewee will have answered all the questions (or most of them) the bloki will be re-opened and all the users will have the possibility to comment on the answers by activating discussions about what the interviewee has written, who in turn will not be obligated to intervene any further.
3rd stage
The interviewee will then propose another person who will be asked three questions, one of which will be asked by the previous interviewee as in the beginning wit hthebiodoll.
Last stage
The bio doll will leave for good, leaving all the system to perform through its own energy. It's like a virtual maternity which after having created new life, only has a limited amount of control and time as this life becomes autonomous. The new form of life will conquer its own autonomy through the male figure (Derrick de Kerckhove) who detaches it from the female figure (bio doll).