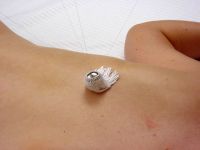 Vida 8.0 competition
The jury for the Vida 8.0, the famous Art & Artificial Life competition in Madrid, reviewed 69 artworks that utilise artificial life concepts and techniques, received from 23 countries. The Telefonica Foundation in Spain will give out the following awards: AP0201 (1st prize); Telekinetics (2nd prize) and Divine Methods/Hidden Motives (3rd prize).
[ITALIAN BELOW]
La giuria del famoso premio spagnolo Vida 8.0, dedicato al binomio arte-vita artificiale, ha annunciato i vincitori di quest'anno. Quattro premi e alcune menzioni speciali sono state assegnate ai progetti prescelti, selezionati da una rosa di 69 partecipanti da pi_ di 20 paesi. Tra creature nel deserto e ricette tecnologiche.
Il primo premio (10.00 Euro) va alla coppia Martin Howse / Jonathan Kemp per "
AP0201, progetto di vita artificiale installato nel deserto della California del Sud, mentre l'argento (7.000 Euro) è stato assegnato a Telekinetics di Michelle Teran & Jeff Mann, un affascinante esperimento di reinterpretazione degli oggetti del quotidiano. Il terzo premio (3.000 Euro) se lo aggiudica l'olandese Erik Olofsen con il mistico Divine Methods/Hidden Motives.
http://www.fundacion.telefonica.com/at/vida/paginas/ev8.html
http://www.1010.co.uk/devices.html
http://www.lftk.org
http://www.denhaagsculptuur.nl/site/?q=node/80#menu1