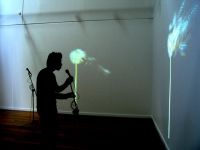 Tampopo
TAMPOPO is an interactive software which explores possibility of human-computer interaction. It attempts to trigger human emotion and experiences through simple action of blowing. The subject in TAMPOPO is a giant looming dandelion, an interactive digital work that lets you blow on the head of the dandelion and watch its spores gently drift away.
[ITALIAN BELOW]
TAMPOPO è un software che esplora le dinamiche di interazione tra uomo e computer. In particolare, cerca di stimolale una risposta emozionale, generandola attraverso un'interfaccia naturale, che si attiva con il semplice atto del soffiare. Protagonista dell'opera, che viene fruita sotto forma di installazione ambientale, è infatti un soffione.
Il fruitore è invitato a soffiare dentro un normale microfono e il flusso sonoro che ne risulta viene inviato al computer. Quest'ultimo fa reagire la grande proiezione luminosa e i semi super-leggeri del soffione vengono sparsi nell'aria. Due o più soffioni tecnologici possono inoltre interagire tra loro. Un soffio sul microfono può infatti influenzare non solo il soffione che lo spettatore ha di fronte, ma anche quelli collegati nel network locale oppure remoto (tramite Internet).
L'autore, il giapponese Kentaro Yamada è un artista che utilizza un approccio multidisciplinare, realizzando video, progetti sonori, installazioni interattive, sculture e progetti web.