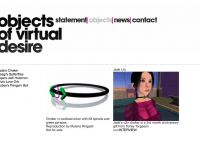 Oggetti del desiderio (virtuale)
Objects of virtual desire is a project exploring immaterial production in a virtual world, and if and how this can be transferred into an economy of material production. A series of objects produced and owned by inhabitants in the online world Second Life have been reproduced physically and are on sale in a web shop. Each chosen object has a strong sentimental value for the avatar who made or owned it.
[ITALIAN BELOW]
Il progetto Objects of virtual desire esplora il tema della produzione di beni nel contesto di mondi virtuali e mette a punto un sistema di "trasferimento" di questi artefatti immateriali in un'economia reale e tangibile. Una serie di oggetti prodotti e usati dagli abitanti del "mondo online" Second Life (un gioco di ruolo multiutente in rete) sono stati realizzati e sono in vendita.
Sul sito web del progetto è possibile vedere delle riproduzioni in 3D dei diversi oggetti, che vengono poi costruiti fisicamente e venduti ai clienti su ordinazione. Ogni artefatto possiede un forte valore sentimentale per l'avatar (la persona virtuale) che l'ha costruito o posseduto. Le copie di questi oggetti sono state regolarmente acquistate tramite i meccanismi di economia immateriale che regolano la vita sul "pianeta" Second Life.
Obiettivo del progetto è la riflessione sul rapporto tra materiale e immateriale, sia dal punto di vista del design degli oggetti che dei desideri (reali o virtuali) che innescano.