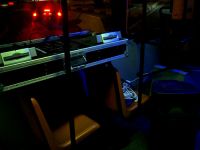 Grave Bus
During the last edition of Peam (Pescara Electronic Artists Meeting), a "mobile" party took place. On sunday 29th of October, from 10 p.m., the GRAVE BUS (a standard city bus) tripped around the city with a dance floor on board. People could jump on at any bus stop and enjoy the dj set….
[ITALIAN BELOW]
In occasione dell'ultima edizione del Peam (Pescara Electronic Artists Meeting), appena concluso, si è svolto un singolare party "mobile". All'interno di GRAVE, nuova sezione della manifestazione orientata al dance floor e al puro divertimento, è stato organizzato un djset itinerante. Una pista da ballo, una consolle dj e tanta voglia di divertirsi. Tutto su un bus di linea.
Nella serata di sabato 29, dalle 22.30 fino a notte inoltrata, un autobus di linea pescarese -di quelli normalmente usati per il trasporto pubblico cittadino- ha portato in giro per la città una carovana festante. Il percorso, le fermate e persino l'autista erano quelli di sempre. Giovanissimi dj si sono alternati alla consolle, mentre tutta la città veniva coinvolta nella performance dancereccia.
http://www.artificialia.com/peam2005
http://www.artificialia.com/peam2005/projects_grave_i.html