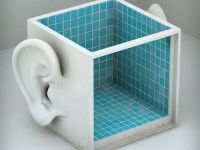 Afrodite Cyberpunk
Edoardo Belinci's exhibition Afrodite Cyberpunk, curated by Micol Di Veroli, will open in Rome (Italy) this thursday, 3th november 2005, at Duro Concept Store. In the gallery space mixed media works and slideshows will be shown. Belinci's images are inspired by sci fi novels and cyberpunk atmospheres but also by ancient greek sculpture.
[ITALIAN BELOW]
Giovedì 3 novembre si inaugura presso Duro Concept Store di Roma la mostra Afrodite Cyberpunk, di Edoardo Belinci, a cura di Micol Di Veroli. Verranno presentate opere mixed-media e slideshow contraddistinti da un estetismo in chiara decadenza. Una violenta carica drammatica emerge dalle pose contorte e dalle lacerazioni inflitte alle figure antropomorfe che sembrano rivelare inaspettati fluidi corporei.
Rendendo così la loro condizione un ponte tra umano e non umano come i sorprendenti androidi dotati di raziocinio partoriti dalla mente di Philip K. Dick. Questa vena "sci-fi" che serpeggia indisturbata in ogni anfratto delle composizioni dona alle opere una singolare unicità scaturita dalla commistione tra classico e fantascienza.
Nelle sue visioni futuristiche Edoardo Belinci mostra come il futuro possa degenerare in forme decadute di umanità e nel farlo la sua mano è lieve e decisa. Visioni asciutte, prive di inutili cliché che lasciano campo libero all'immaginazione di chi le osserva.
Duro attraverso i suoi spazi vuole ospitare diverse espressioni culturali e artistiche. La filosofia del fashion store consente agli artisti di esporre le proprie opere e di approfondire con gli ospiti le tematiche trattate. Il Duro Concept Store è infatti progettato come uno spazio essenziale e minimalista, in grado di accogliere e di vestirsi di forme d'arte di natura diversa.
Edoardo Belinci – Afrodite Cyberpunk a cura di Micol Di Veroli
Dal 1 al 5 novembre 2005
Vernissage: Giovedì 3 novembre dalle ore 18:30
Ingresso libero
Duro Concept Store
Piazza Santa Rufina 2 – 2A, Roma
http://www.fantascienza.net/belinci