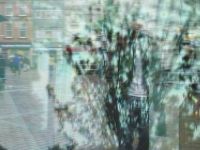 Abuse of the Public Domain
HTTP – House of Technologically Termed Praxis, based in London, presents "Abuse of the Public Domain", the first solo show of networked media art by UK artist Stanza. This exhibition features large-scale projections of 2 works, which use live real-time data from CCTV cameras cited in two cities, London and New York. Security tracking data is Stanza's chosen medium for these process led artworks.
[ITALIAN BELOW]
La galleria londinese HTTP – House of Technologically Termed Praxis dal 9 dicembre mette in mostra la nostra vita, le nostre storie. L'artista Stanza infatti, ha scelto uno dei principali luoghi espositivi rivolti alla net art, supportato dall'Arts Council of England e aperto per iniziativa del sito Furtherfield (piattaforma per la creazione, la promozione e la critica dei nuovi media) per allestire la sua ultima personale, Abuse of the Public Domain.
L'evento è interamente giocato attorno al controverso concetto di sorveglianza, ormai parte integrante delle comunità occidentali: i sistemi di controllo audio e video si insidiano in ogni parte del quotidiano, rubando di nascosto le nostre forme. In una società spesso intransigente nei confronti di privacy e diritti d'autore, viene paradossalmente continuamente sottratto, clonato dai dispositivi, il personale patrimonio estetico dei cittadini, fatto di conformazioni, gesti, parole.
Le due gigantesche proiezioni presentate da Stanza sono collegate in diretta con telecamere CCTV, situate a Londra e a New York per catturare la traccia dei passanti: YOU ARE MY SUBJECTS e AUTHENTICITY [Trying to imagine the world from everyone elsesÌ perspective, all at once], verranno contemporaneamente trasmesse in rete, in un interessante intreccio di canali divulgativi.
La sperimentazione creativa dedita all'indagine delle possibili estensioni della telecomunicazione ha progressivamente coinvolto il mondo dell'arte, già da decenni interessato allo scambio dei dati e sempre più libero dalla fisicità dell'oggetto. Fin dagli anni '80 ad esempio, Sherrie Rabinowitz e Kit Galloway manipolavano ludicamente lo streaming di riprese pubbliche, grazie al supporto del satellite Alcune ricognizioni hanno inoltre coinvolto direttamente i circuiti della polizia, delle metropolitane, delle banche, dei supermercati, come accaduto nelle performances dei newyorkesi Surveillance-Camera Players. L'anonimo cittadino diventa attore, e spesso a sua insaputa. Stanza spiega: the city of London can be imagined as the biggest TV station in existence.
L'esposizione delle sequenze spiate per strada in un ambiente ufficiale delegato all'arte, conferisce al voyeurismo una diversa accezione: l'atto dell'artista sapráàrendere al pubblico le immagini e i suoni che gli sono stati sottratti, estraendoli dal sovraccarico estetico contemporaneo e regalando una prospettiva visiva che è sempre più diffusa, ma che è normalmente negata alla visione pubblica.
http://www.http.uk.net
http://www.stanza.co.uk
(alice spadacini)