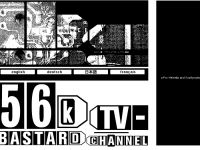 56ktv bastard channel
56ktv bastard channel is a cross between a television and a web project, a platform in the Internet that tells the story of itself as a television channel. The channel works with the lowtech and financial means of network art and has collaborators on three continents. Its programme can be received all over the world. On 18 November 2004, bastard channel has been celebrating its start with six programmes within the framework of the Viper Media Festival in the Basel Kunsthalle. By the winter of 2005, seven new programmes will have been added.
[ITALIAN BELOW]
56ktv bastard channel è un progetto d'arte in rete iniziato e finanziato dalla divisione Arti visive della Fondazione svizzera per la cultura Pro Helvetia e xcult. Il curatore del progetto è Reinhard Storz, in collaborazione con Monica Studer e Christoph van der Berg. Bastard channel è un progetto che sovrapone televisione e web, una piattaforma in rete che narra sé stessa come la storia di una stazione televisiva.
Gli artisti coinvolti sono:
YOUNG-HAE CHANG HEAVY INDUSTRIES (Seoul), MARC LEE (Zurigo)
SHU LEA CHEANG (artista nomade), EXONEMO (Tokyo), BIRGIT KEMPKER (Basilea) JIMPUNK (Parigi), NATHALIE NOVARINA / MARCEL CROUBALIAN (Ginevra), BEAT BROGLE (Berlino), PHILIPPE ZIMMERMANN (Zurigo), JODY ZELLEN (Los Angeles), MONICA STUDER / CHRISTOPH VAN DER BERG (Londra / Basilea), FRAN ILICH (Mexico City), MARTIN DAHLHAUSER & DOROTHEA HEIN (Berlin), ESTEE OARSED (Bangalore).
Venerdi 18 novembre alle ore 16 il progetto verrà presentato a Roma durante una conferenza. Per la prima volta saranno presenti in Italia dopo essere stati invitati dai più rinomati festival internazionali di arti digitali come Ars Electronica a Linz, Transmediale a Berlino e il Viper Media Festival a Basilea, e verrà dato modo agli artisti di presentare i loro progetti e spiegare le loro opere, affrontando temi relativi all'impatto delle nuove tecnologie sulla società contemporanea, sempre piu spesso definita società digitale.