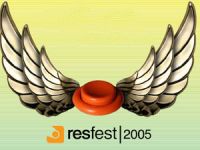 Resfest
Resfest, the worldwide famous festival devoted to moving image, avantgarde digital cinema and new creativity, will land in Italy for the first time from 28th to 30th October 2005 in Turin. The italian edition is promoted by Virtuality Conference 2005. Resfest will host live music, screenings, vj and dj sets.
[ITALIAN BELOW]
Resfest, il famoso festival dedicato all'immagine in movimento, al cinema digitale d'avanguardia e alla nuova creatività, arriva per la prima volta in Italia, a Torino, dal 28 al 30 ottobre alla Multisala Massimo del Museo Nazionale del Cinema. L'edizione italiana è presentata da Virtuality Conference, promossa e realizzata dal Comitato organizzatore Virtuality Conference, con il contributo determinante della Regione Piemonte e il sostegno della Compagnia di San Paolo.
Manifestazione unica nel suo genere, Resfest coinvolge, nel corso di quattro mesi, oltre 40 città in sei continenti. Ogni tappa è arricchita da specifici eventi di contorno: incontri, dibattiti, installazioni d'arte d'avanguardia, rassegne di video selezionate all'interno della produzione nazionale del paese ospite, feste, happening, dj e vj set nei locali di tendenza. Il debutto italiano di Resfest anticipa e prepara Virtuality Conference 2005, sesta edizione dell'annuale manifestazione internazionale sulla realtà virtuale, che si svolge a Torino dal 3 al 6 novembre.
I due eventi, Resfest e Virtuality Conference, si combinano dando vita a una settimana digitale che colloca Torino al crocevia di correnti estremamente innovative nell'ambito dell'arte, della cultura e della tecnologia.
Dal piccolo al grande schermo, dalla musica live ai vj set, Resfest 2005 presenta il meglio dell'innovazione mondiale in fatto di visioni, suoni e immagini in movimento. Il programma torinese di tre giornate comprende una serie di percorsi, attraverso più di 160 titoli, ognuno dei quali è caratterizzato dalla scelta di una specifica forma espressiva o da un particolare approccio artistico.