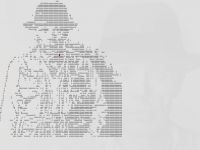 Remixing Joseph Beuys
Joseph Beuys is one of the most loved contemporary artists. He is admired for his incredible ability to mix form and content, politic ideas and poetic visions. And of course for being a real icon. Many on-line projects are dedicated to him. The most recent is Jimpunk's ascii sound remix.
[ITALIAN BELOW]
Joseph Beuys è uno degli artisti contemporanei più amati. Un po' per la sua rarissima capacità di coniugare forma e contenuto, politica e poetica, un po' per il fascino indubbio del personaggio. Molte le citazioni e gli omaggi, che fioccano anche in rete.
D'altra parte, il noto concetto di "scultura sociale", coniato dall'artista tedesco negli anni Settanta, è un serbatoio di spunti per la più giovane arte dei network che, specie agli esordi, lavorò proprio sulla costruzione di relazioni, più che sulla realizzazione di prodotti artistici in senso stretto. Lo stesso Wolfgang Stahele, fondatore di The Thing, lo citò in alcune interviste come fonte di ispirazione per il suo pionieristico network artistico.
Lo scorso anno MTAA mise in rete uno scaricatissimo filmato (Beastie Beuys) in cui Joseph Beuys si esibiva come cantante in un'improbabile pop band degli anni Ottanta, cantando un testo estremamente politico come Sonne statt Reagan. Il net artista francese Jimpunk ha invece lanciato ieri un ascii remix sonoro di una delle tracce più famose dell'artista tedesco, la dadaista ja ja ja ja ja nee nee nee nee nee. E' il visitatore che può assemblare i suoni, cliccando qua e là sull'inconfondibile sagoma di Beuys, tratteggiata con poche righe parallele.
http://www.medienkunstnetz.de/artist/beuys/biography
http://www.jimpunk.com/Joseph.Beuys/
http://www.mteww.com/mtaaRR/news/twhid/beastie_beuys.html