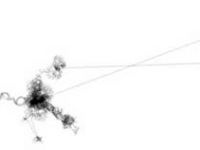 Pop Music Sketches
Pop Music Sketches is a series of drawings generated from pop songs. The songs are analyzed note-by-note. At each note, a line is drawn. The angle at which the line is drawn is determined by the pitch of the note and the length of the line is determined by the volume of the note. The result is a series of playful, doodle-like, linear drawings.
[ITALIAN BELOW]
Pop Music Sketches è una serie di disegni generati da un software a partire dai suoni di alcune canzoni pop. I motivi vengono analizzati nota per nota e ad ognuna corrisponde una linea. La tonalità e il volume influenzano l'aspetto delle linee.
La visualizzazione della musica non è una corrente nuova nel campo della software art, basti pensare ad esempio al noto The Shape of Song di Martin Wattenberg, risalente al lontano 2001, che trasformava file midi in eleganti composizioni di archi nelle tonalità del blu.
Il lavoro di Jake Elliott produce invece dei raffinatissimi disegni lineari, nero su bianco. Nell'introduzione l'autore dichiara anche di voler affrontare il complesso problema della mercato della musica pop, con i suoi destinatari adolescenti cui vengono dati in pasto prodotti congegnati da adulti professionisti.