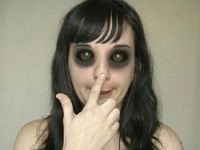 Peam 2005
PEAM 2005 (Pescara Electronic Artists Meeting) will start tonight in Pescara (Italy). The festival features one exhibition, an educational program and lots of concerts, presentations and debates. The goal is to gather artists, critics and lovers of new media art and give birth to collaborations and exchange. The theme of this year is "The new human being positionin".
[ITALIAN BELOW]
Parte oggi a Pescara l'edizione 2005 del PEAM (Pescara Electronic Artists Meeting), appuntamento ormai tradizionale per gli appassionati di new media art e cultura elettronica. Da stasera fino a sabato, e in multiple sedi, prenderà vita un programma fitto di conferenze, incontri, presentazioni, proiezioni e concerti. Ma c'è anche una mostra e una sezione educational.
La mostra di quest'anno, curata da Francesca Colasante e Marco Antonini, si intitola La Linea Sottile, logiche dell'invisibile ed è allestita, come di consueto, presso il Museo Laboratorio di Città Sant'Angelo. L'esposizione, che comprende lavori di artisti come Bianco-Valente, Josh On, Radical Software Group e Area 3, si propone di indagare i modelli di rappresentazione visiva del mondo e dei suoi macro-sistemi. Dal mapping alle pratiche psicogeografiche passando attraverso gli stadi del riconoscimento, della conoscenza, del procedimento.
La selezione video (Il video fuori dal video) esce dal circolo tradizionale della videoarte che si vede in gallerie e musei per puntare la propria attenzione sulla produzione, meno conosciuta, ma non meno vivace, che circola in rete. 14 video, alcuni realizzati appositamente per una fruizione on line, tracciano un inedito panorama della creatività filmica digitale. Due lavori sono stati realizzati con dispositivi mobili.
La sezione musicale presenta una forte attenzione verso il tema principale del meeting, per cui propone 2 progetti creati ad hoc ed alcune performance extra, tra cui Human & Posthuman Live media Symbiosis e Mobile Artists and diary recordings.
Per quanto riguarda la Net Art segnaliamo la presenza di Arcangel Costantini, Stanza e Peter Luining, mentre la sezione speciale Post-Humans vede la partecipazione, tra gli altri, di Marco Cadioli, Casaluce-Geiger e Antonio Caronia.
Impossibli da elencare tutti gli appuntamenti, che comprendono quest'anno anche il progetto Net Painting, Peam Educational, la storica sezione di Software Art e Hacktivism e il sorprendente progetto Grave – The Gravitational Party.