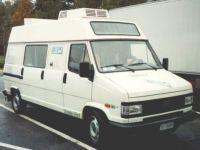 MobLab
MobLab ("Mobile" + "Laboratory", also "mob" = crowd, community, etc.) is the sum of projects proposed and developed by Japanese and German artists from various fields (=MobNauts) in a bus that, equipped with an array of mobile devices, functions as an information base. The time the MobNauts spend on the road will naturally lead to various creative collaborations.
[ITALIAN BELOW]
MobLab ("Mobile" +  "Laboratory", ma anche "mob" = folla, comunità, etc) nasce dall'unione di vari progetti proposti e sviluppati da artisti tedeschi e giapponesi. La particolaritá dell'iniziativa sta nella sua natura itinerante. La sperimentazione e lo scambio avvengono infatti a bordo di un bus equipaggiato con unitá informative mobili. L'autobus della creatività mobile viaggerà attraverso il Giappone per tre settimane (dal 15 ottobre al 6 novembre), ospitando a bordo numerosi MobNauts e facendo tappa in diverse località e istituzioni. Durante le soste gli artisti potranno intavolare scambi con le persone e gli artisti del luogo, oltre a mettere in scena mostre e performance. Un weblog terrà traccia di evoluzioni e spostamenti.
L'equipaggio è così formato: exonemo (Yae Akaiwa + Kensuke Sembo), AGF, Sven Gareis, Daisuke Ishida + Ken Furudate, Stefan Riekeles (Mobnauti), Yosuke Kawamura (artista e direttore di MOBIUM) e Tomonaga Yamaguchi (assistente di produzione MobLab).