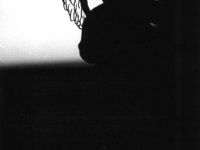 Drawing jazz
Last saturday in Milan, visual art and jazz music got together in a fascinating performance. Three musicians (Paolo Fresu, Antonello Salis and Furio di Castri) went on stage with artist Alex Pinna, who made drawing live during the show with an optical pen. Images were projected on the orchestra.
[ITALIAN BELOW]
Drawing Jazz. Musica ed arte visive s'incontrano. E' accaduto sabato 15 settembre al Teatro dal Verme di Milano, grazie al PAC, nell'ambito di Milano Contemporanea e della giornata organizzata da AMACI, associazione nazionale dei musei d'arte attuale. Tre musicisti jazz e la penna (ottica) di un artista disegnatore.
Tre musicisti, Paolo Fresu, Antonello Salis e Furio di Castri, uniti sotto l'acronimo PAF, creano un jazz variopinto che parte dalla tradizione, per sperimentare soluzioni innovative, accompagnando a partiture e strumenti consueti performances vocali, rumori. Incontrando materiali disparati, (carte di giornali, percussioni inventate lì per lì con gli oggetti a disposizione o con la cassa degli strumenti)e la tecnologia del sintetizzatore, usato con parsimonia ed abilità. Oppure dislocandosi in tutta libertà nello spazio. Affiancandosi, infine, all'arte di Alex Pinna, che ha disegnato la musica per tutta la durata del concerto grazie all'ausilio di una penna ottica, sullo schermo di un pc, proiettato sull'orchestra. Inventando una sorta di scenografia virtuale , in cui il segno, affascinante e magistrale, ed i soggetti trattati, vanno ad amalgamarsi senza dolo alle note, in una jam session priva di sincopi, in cui arte e musica non competono. Tutt'altro, si abbracciano. E compenetrandosi tessono una narrazione complessa ed inequivocabile, fatta d'iconografie note, ma non per questo meno liriche. Si sono ammirati notturni, pene d'amore, solitudini. E soprattutto una pittura che a contatto con la tecnologia non ha perso colpi, nè sostanza materica. Anzi, è decollata con l'ausilio della luce e, commentata dal sound, s'è fatta poesia..
(santa nastro)
http://www.exibart.com/profilo/eventiV2.asp/idelemento/23563
http://www.paolofresu.it
http://www.alexpinna.org