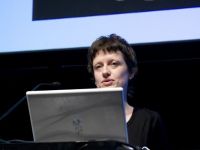 Design Documents
"How do interdisciplinary teams communicate in media design and electronic art? If they do communicate well, what are the ways that artists, designs, programmers, engineers, and those they work with, such as users, discuss their ideas, clarify problems, and find results that enhance their work?" A Symposium organized by V2 will be held in Rotterdam on October 13th.
[ITALIAN BELOW]
Il 13 ottobre 2005 a Rotterdam, avrà luogo un simposio organizzato dall'Istituto per i media instabili V2 di Rotterdam. L'incontro, intitolato Design Documents, si propone di indagare sulle modalità di comunicazione e interazione dei team interdisciplinari nel campo del media design e dell'arte elettronica. Ci si chiederà se realmente queste discipine comunicano tra loro, al di là delle utopie, e quali sono i risultati oggettivi di questo scambio. L'intenzione è anche quella di interrogarsi su come queste dinamiche interagiscono con i processi sociali. Un altro obiettivo interessante promosso da V2 sarà quello di sondare quanto il free software abbia agevolato forme di collaborazione reali ed interdisciplinari.
V2 continua così a scandagliare la relazione della società con le nuove tecnologie, interrogandosi con lucidità sui limiti e le possibilità dei "media instabili". Vari i partecipanti: McKenzie Wark, Victoria Donkersloot, Dennis Kaspori / Jeanne van Heeswijk, Nina Wakeford, Herve Paraponaris, Kristina Andersen, Rolf Pixley.
(francesca de nicolò)