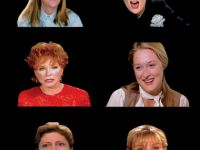 Candice Breitz
Candice Breitz six-channel installation Mother addresses the meaning of mass media images and critically questions clichés perpetuated by the entertainment industry. Well-known Hollywood movies provide the source material which the artist has digitally reworked and rearranged according to her own script, thereby situating it in a new context. From October 29 to January 8 2006 at Edith Russ Site for Media Art, Oldenburg.
[ITALIAN BELOW]
Dopo aver fatto tappa, tra le tante, anche al Castello di Rivoli (To) e a Venezia per la Biennale, l'installazione Mother della sudafricana Candice Breitz approda in Germania. Presso la sede del centro Edith Russ Site for Media Art di Oldenburg, dove sarà esposta fino a gennaio. Sei monitor riprendono le espressioni, ritagliate e decontestualizzate, di sei famose attrici americane impegnate in ruoli materni.
L'opera, cui spesso viene affiancata la speculare Father, mette in discussione la potenza delle immagini mediatiche e spinge a riflettere sui clichè perpetuati dal cinema come industria dell'intrattenimento. Le figure di Meryl Streep, Shirley McLaine, Julia Roberts, Susan Sarandon, Diane Keaton e Faye Dunaway sono state ritagliate e poste davanti ad uno sfondo nero totalmente neutro. Le loro parole e i loro gesti sono stati sottoposti ad un procedimento di impietoso cut and mix. Il contesto, il dialogo e il rapporto con l'interlocutore sono inevitabilmente persi, l'atmosfera di tensione emotiva ne risulta amplificata.
Il lavoro di Candice Breitz dimostra tutta la potenza del sampling e del remix, intesi come linguaggi autonomi e maturi, totalmente integrati nella pratica linguistica del contemporaneo.
http://www.edith-russ-haus.de/
http://www.candicebreitz.net/