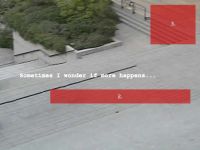 Attraverso gli occhi di Laura
"A volte mi chiedo se succedano più cose…solo perchè sto guardando". Si apre con queste parole il progetto Eyes of Laura. Riproponendo in chiave attuale la problematica filosofica del soggetto-che-osserva il mondo chiedendosi se sia ancora lœ quando distoglie lo sguardo o chiude gli occhi. In questo caso, la protagonista del sito dichiara di essere una guardia di sicurezza della Vancouver Art Gallery e di aver collegato ad Internet, tramite il suo blog, una telecamera per la videosorveglianza del museo.
Oltre a guardare le immagini, il visitatore può anche leggere il blog di Laura, un diario in tempo reale delle sue esperienze da voyeur. Il progetto, che probabilmente si richiama nel titolo al famoso film di John Carpenter The eyes of Laura Mars, mette ancora una volta al centro dell'attenzione il problema della videosorveglianza e della privacy nella società contemporanea.