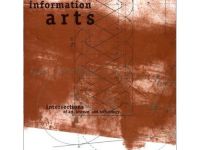 Information Arts. Intersections of Art, Science and Technology
Stephen Wilson produce una mappa dell'estremamente complessa e stratificata area di intersezione tra arte, scienza e tecnologia. Una nuova produzione di artisti contemporanei si occupa di scienza e tecnologia, non solo per adottarne il vocabolario, ma per esplorare le possibilità. Il ruolo dell'artista è non solo quello di interpretare e diffondere le conoscenze scientifiche, ma essere un partner attivo nel determinare la direzione della ricerca.
Nel 1959 Cherles Percy Snow tenne una conferenza "The two cultures and the scientific revolution" sul contrasto e l'isolamento tra discipline scientifiche e umanistiche. Gli attuali sviluppi nel campo dell'arte possono cambiare l'opinione di quelli che vedono scienza e tecnologia separate dalla cultura generale e umanistica in particolare. Il libro guida attraverso la vitalità e la pluralità delle forme creative che emergono quando i confini tra arte e scienza sono cancellati. Wilson offre una puntuale indagine degli artisti internazionali che incorporano concetti e ricerche di matematica, fisica, biologia, cinetica, telecomunicazione, sperimentazione dei sistemi digitali, intelligenza artificiale, ecc. In aggiunta alla documentazione visiva e alle dichiarazioni degli artisti, Wilson esamina rilevanti scritti teoretici e esplora l'emergente ricerca scientifica e tecnologica. Fornisce una lista di risorse includendo organizzazioni, pubblicazioni, conferenze, musei, centri di ricerca e siti web.
(damiana luzzi)
Stephen Wilson, Information Arts. Intersections of Art, Science and Technology, Cambridge Mass., The MIT Press, 2002. ƒ 28,07