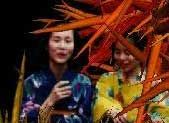 Vigil of planetary net art
Richard Barbeau, insegnante di storia dell'arte e multimedia all'università di Sherbrooke (Quebec, Canada) è al contempo artista ed organizzatore del Vigil of planetary net art. Il curatore di questa particolare iniziativa, arrivata alla sua terza edizione, ha anche per quest'anno invitato 28 artisti dei nuovi media a presentare un'opera digitale della rete di cui sono stati spettatori e che hanno trovato interessante.
L'iniziativa si presenta con due serie di link, da una parte gli invitati e dall'altra le recensioni dei lavori scelti. Nascono cosœ delle relazioni che presentano gli interessi e le ispirazioni dei partecipanti, mostrando la rete come un sistema di continua contaminazione tra i soggetti.