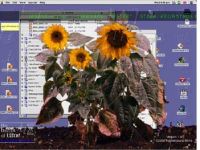 10 anni di new media art
Sabato 3 aprile, presso l'auditorium della Tate Modern di Londra, si svolgerà la conferenza British New Media Art, dedicata alla ricognizione del panorama delle arti mediali in Gran Bretagna negli ultimi 10 anni. Il museo inglese, che con questa iniziativa riconferma la sua costante attenzione alla scena creativa legata alle nuove tecnologie, ospiterà artisti, curatori e studiosi di calibro internazionale: Steve Dietz, Saul Albert, Geoffrey Batchen, Sarah Cook, Nick Crowe, Steve Dietz, Desperate Optimists, Matt Fuller, Charlie Gere, Shilpa Gupta, Lucy Kimbell, Julian Stallabrass, Thomson & Craighead e Carey Young.
L'iniziativa comprende anche la pubblicazione di un libro intitolato New Media Art: Practice and Content in the UK 1994-2004, pubblicato da Arts Council England e Cornerhouse Publications.