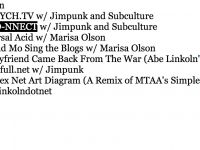 Come diventare net.artist
Ai net artisti l'autoironia, per fortuna, non è mai mancata. Parodie, provocazioni e progetti sarcastici sono all'ordine del giorno. Il bersaglio più ricorrente è il presunto "status" di net.artista e la creazione di superstar all'interno del movimento, con tutti gli stereotipi e i luoghi comuni del caso. A fare da apripista ci pensarono Alexei Shulgin e Natalie Boochkin con il gustoso manifesto intitolato Introduction to net.art (1994-1999). Il testo conteneva alcuni elementi interessanti per la definizione dell'arte della Rete, ma anche un esilarante paragrafo sui "Trucchi per il moderno net.artista di successo". Sullo stesso stile, ma dai toni più concettuali, l'e-book di Mark Amerika How to be an Internet Artist e la raccolta di auto-interviste Interview yourself promossa da Plagiarist.org.
La tradizione continua oggi con le lezioni di Linkoln.net -già noto per progetti come Net art Paparazzi, Fuck net.art e Complex Net art Diagram- iniziate con how to be a net.artist: lesson one: the name game. L'autore è l'artista e dj brasiliano Rick Silva, che firma questa serie di ironici progetti con lo pseudonimo di Abe Linkoln, con ovvio richiamo al logo del sito: un bizzarro Abramo Lincoln con la cresta punk.
Nella prima lezione del corso, inviata per e-mail alle più frequentate mailing list di settore, Abe dà consigli su come scegliere il proprio nome (si hanno più chance di diventare famosi se ci si chiama Mark, come Mark Napier, Mark Tribe o Mark River) e il proprio dominio (corto come jodi.org o lunghissimo come 111111111111111111111111111111111111111111111111111111111111.com).
(valentina tanni)