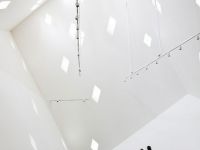 Are We There Yet?
Are We There Yet? is a new media art installation in the San Francisco Contemporary Jewish Museum by Bay Area artists Ken Goldberg and Gil Gershoni that celebrates inquisitive impulse. An immersive sound environment, the installation poses questions from a variety of sources including the Talmud, literature, and popular culture. Questions vary based on visitors' movement through the space.
Each visit is a unique mix of playfulness, poetry, and spiritual journey. A companion website, are-we-there-yet.org, presents live streams of videos and tweets, allowing visitors to suggest questions for the exhibition and to playfully explore the suggestions of others.
You can also download the iPod/iPad app, follow on Twitter @doyouloveme, or like Are We There Yet? on Facebook. Are We There Yet? encourages visitors to reflect on the rich history and future of curiosity.