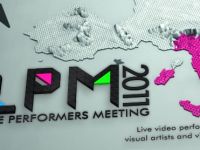 LPM Call for Entries
LPM – Live Performers Meeting is considered the most important international meeting of live video performers, visual artists and VJs, focused on live video performances.
LPM is conceived to be a place for dialogue, comparison and exchange of information and ideas among artists coming from all over the world and it aims to promote and support the intercultural dialogue and the transnational mobility of artists expert in live video field. LPM encourage the research, the experimentation, the encounter among different forms of artistic expression, the interaction-fusion among the manifolds techniques, digital and analogic technologies, software and hardware.
The ninth edition of LPM – Live Performers Meeting – kicks off on 19th May 2011 in Rome, Italy and will take place at the recently renewed Cinema Aquila, a multi-purpose cultural space dedicated to cinema and visual arts. Venue consists of three floors and includes 3 cinema halls set up with the highest technological standards, foyer and other spaces dedicated to the social interaction we love to promote at LPM.
The CALL FOR ENTRIES is now open, send your proposal!
Ready to participate? The LPM registration form LPM is on-line.
http://www.liveperformersmeeting.net/2011/en/participate/