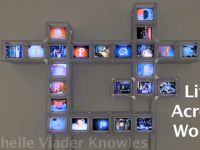 Life Across Words
Life Across Words, by Rachelle Viader Knowles, is a 24-channel synchronized video installation. A creative response to Georges Perec's novel Life A Users Manual, an experimental, conceptual game of a book, where the narrative travels from room to room within a fictional Parisian apartment building. Life Across Words consists of 24 tv's in the form of a crossword puzzle with 5 intersecting words, each the name of a project participant, who moves through the tv's that spell out their name, performing an action for each letter. Where words cross, the participants perform an action together. Shot at the Elsewhere Museum in North Carolina, a 'living museum' and art centre based on a ethos of 'play' as a serious strategy for human interaction, learning and engagement with the material world.
The back end consists of 8 networked computers running quicktime and MaxMSP. Video delivery and synchronization system designed by David Ogborn. Constructed into a looped 30 minute cycle, each cycle begins and ends with images of books on shelves and the whole piece begins and ends as a library.
The exhibition was accompanied by a catalogue with essays by Dr Carmen Robertson and Stephanie Sherman. Project participants: Danna Rooth, Stephanie Sherman, Eliza Fernand, George Scheer and Dan White.
[via gameart]