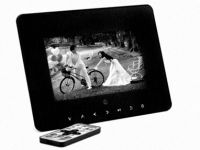 MINI Museum of XXI Century Arts
The MINI Museum of XXI Century Arts (also known as MMAXXI) is a 7" digital photo frame bought on eBay equipped with a 4GB pen drive. Founded and directed by Domenico Quaranta, the MINI Museum has been designed to store and display the art of the XXI century – that is art that takes, has taken or can take digital form, at some time in its life, and can thus be stored on a USB pen drive and displayed on a digital photo frame.
The MINI Museum will travel from node to node around a network of artists, and will host temporary solo shows by the artist owning it at the time. All the artworks shown in the MINI Museum will enter the permanent collection of the Museum itself. The Museum will return to the Director when there is no more storage space left. The process is scheduled to start on October 15, 2010, when the MINI Museum will officially be given to its first "temporary owner".
The MINI Museum addresses issues of copyright, ownership, networking, versioning, sharing, curating, collecting and displaying, but also of space and time, scale, history-making, preserving and forgetting.