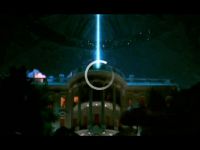 Full Throttle
In Full Throttle, by Artie Vierkant, a six-screen video installation and continuing series, action and suspense scenes from major Hollywood films are recorded streaming over the Internet at very slow connection speeds.
Each film is a major part of our collective pop culture consciousness but is made available publicly only through means which are morally and institutionally spurned by physical-object-oriented capitalism.
As a result, this type of content is nomadic, always existing somewhere without restriction but perpetually needing a new haven. Here, through the process of recording these over a throttled Internet connection, they become abstracted and formalized versions of their original images, dispelling or intensifying the tension created for the scene by the filmmaker and redirecting the aesthetic focus to the medium of display.
[Installation shown at Extra Extra in Philadelphia for Artie Vierkant & Constant Dullaart, August 6 – 29 2010]
http://www.artievierkant.com
http://thestate.tumblr.com/post/943316142/artievierkant