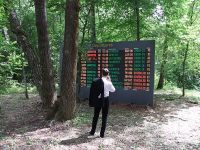 AirPort
Air-port is a new media installation by Electroboutique (Aristarkh Chernyshev, Alexei Shulgin, Inna Astafieva), shown at Archstoyanie festival, in Russia.
Huge information display with flights schedule in an imaginary airport is situated directly in the forest, between trees, grass and bushes. It works, information is constantly renewed in compliance with flights schedule. Displayed time is real. Moreover from time to time one can hear voice announcements typical for airports.
In humorous and ironic tone the authors confront nature and techno-civilization directly. Without offering immediate decisions of ecological and architectural problems, this project expresses hope for possibility of other, non-antagonistic co-existence of nature and civilization.