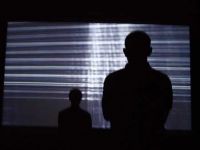 Telcosystems – Meta_Epics
Telcosystems is a collective consisting of Gideon Kiers, David Kiers and Lucas van der Velden. Having studied at the Royal Academy in the Hague, the trio now work and live in Rotterdam, Reykjavik and Germany. Telcosystems' work can probably be best discribed as computer art.
The essence lies in self-developed software, allowing computers to generate and compose image and sound. Telcosystems use hardly any source material that stems from outside the machines. Everything is built up from digital, synthetic elements that create image and sound in "real time".
Meta_Epics II is the second part in a series of cinematographic installations. The installation investigates the (un)predictability and aesthetics of generative computer art. The borderland between order and chaos is the playing field in which the computer has an autonomous role.
This results in an independently evolving film with no script or plot-line, which is only finished when the electricity is turned off. Until that moment, the audience will see projections on wide screen accompanied by soundscapes that are being generated in a similar fashion.
Telcosystems have gained a lot of critical acclaim on the basis of their earlier work. We therefore think itÌs safe to say that Meta_Epics II is yet another must-see at <>TAG Headquarters.
Telcosystems > Meta_Epics II
Opening Exhibition> April 13th at 17:00hrs
Open> April 13th until May 5th
Location > Stille Veerkade 19, The Hague
www.tag004.nl