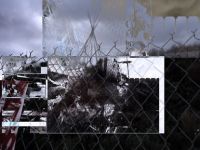 La Conchita mon amour
Sara Tecchia Roma New York is proud to premiere La Conchita mon amour, an exhibition featuring photography, HD video, digital print, and drawing by California-based artist Christina McPhee. With this new body of work, McPhee continues her exploration of the synchronicity between natural disaster and human trauma at the tiny coastal town of La Conchita, California.
This community, just north of Los Angeles on Highway 1/101, is built on an ancient mudslide and has been subject to periodic massive debris flows. The most recent, in 2005, took ten lives and left a huge mass of fallen mountain on the town. Yet the inhabitants must continue to stay, despite the inevitable recurrence of this threat. La Conchita remaps the problematic of living with disaster in California in immediate, raw terms, since the trauma is always already here. Global warming appears to be accelerating the danger. Without resources for healing or leaving, La Conchita lives on in abandonment. The plight of residents at La Conchita is a microcosm of the conditions of bare life in post-911 material culture.
For the past year at one month intervals, McPhee has shot medium format and digital photographs of the disaster's vernacular shrines to the dead on the site of the mudslideÛchain link barriers a rubble of mud, destroyed house frames, roofs, retaining walls, play yards, swing sets and crushed cars. She has recorded video and audio in these site visits at quiet times of the day, developing a time based record of the cyclical power of the tides, the freeway sounds, and the voices of residents who would sometimes guide her into precarious parts of the ruin. Her working methods perform an intimate and subtle connection to the architectural conditions of the site, which also give rise to graphite and ink study drawings of the threat of debris flow. The drawings are repetitive and performative as if to retrace the edges of that which cannot be visualized. Given the impossibility of representing trauma, McPhee's images reach through obsessive layers of visual data towards an integration beyond the material facts of the site. The large scale images that result from this process are topologies of absence and recovery. Like the prayer flags they record, the images are performance gestures, signaling an attempt to remain in touch with hope and life in the face of indifference.
Videos for the exhibition were produced in part through a residency at the Experimental Television Center, New York, in November 2005. A related interactive narrative on La Conchita will be featured online at New York's Turbulence.org beginning in early October.
CHRISTINA McPHEE | La Conchita mon amour
DATES:Oct 19 thru Nov 22, 2006
www.saratecchia.com
www.christinamcphee.net/la_conchita.html