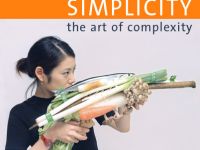 Ars Electronica 2006 . Simplicity
A richly varied program and an incomparable atmosphere are the defining features of the Ars Electronica Festival. In addition to symposia, conferences, concerts and exhibitions, a profusion of art projects installed in public spaces invites those partaking of them to engage in interaction, discussion and dialog. From August 31 to September 5 2006, all of Linz becomes a stage set for media installations, screenings, sound sculptures and enthralling experiences for highly diversified audiences.
Simplicity is a complex topic that has no single, simple answer. Our world's increasing complexity and its tension-filled interplay with our own growing need for a comprehensive, comprehensible overview of the world will occupy the focal point of attention at Ars Electronica this year. A feature-packed lineup of events, conferences, symposia, exhibitions and performances will provide a detailed and comprehensive view of the state of the art of global media culture.
ARS ELECTRONICA 2OO6
Simplicity, the art of complexity.
Festival for Art, Technology and Society
Linz, Thu 31 August – Tue 5 September – 2006
www.aec.at